An overwhelming majority of people don't know whether to buy a maintenance plan or service plan. That's not unexpected given that many of the service providers of these two non-insurance products couple them into one product, which can be to your benefit or maybe not. The Motorite maintenance plan or service plan for example, leaves folks not knowing exactly which one will best suit their needs. These are the main characteristics of each of the products, and what you need to look out for to align them with what you need from either motor plan.
We don't drive the same cars for a reason, therefore, our service plans also don't have to be a one-size fits all option! Our motor vehicle service plans have 3 amazing options to choose from starting from as little as R250 per month.
Please find below details of the monthly price plans.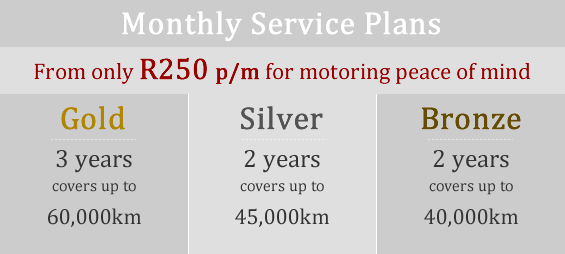 NOTE: Your personal information is confidential, and we will never rent or resell it to anyone. It will only be used to call you back and then provide you with a service plan solution.
As long as it has been on the road for less than 15 years, and/or hasn't registered more than 350,000 km on its odometer, you qualify. It's important to remember when comparing any of the options that these are service plans and not car warranties or maintenance plans.  This service plan will help you pay for the regular servicing of your vehicle.
All referrals are sent to The Engine Room Direct Services (Pty) Ltd.
FSP: 45528.
Underwritten by Infiniti Insurance.
The Motorite maintenance plan is a stand-alone solution that is different from the Motorite service plan, but both form part of Motorite's motor plans, which are the non-insurance products, complimentary to the insurance type extended car warranties. What you get with the maintenance plan is cover for the costs involved in taking your car for regular maintenance as indicated by the vehicle's manufacturer. This can be after a certain amount of kilometres driven, or after a certain amount of time has passed. This type of motor plan includes cover for some items that wear and tear with the regular use of your motor vehicle.
The Motorite service plan is different from its maintenance plan counterpart because it excludes cover for the wear and tear of items. The service plan is solely focused on the regular servicing for your car as per owner's manual for example. Also, while a maintenance plan requires that your car be less than 5 years old and/or have less than 120,000km on the clock, you can get a service plan if your car is younger than 8 years and/or has been driven for less than 180,000km.
These Fall Under the Motorite Motor Plan
With either the Motorite maintenance plan or service plan, you get access to tons of great benefits and services all of which are free. These include roadside assistance, car hire, a dedicated mobile application which you can use to administer your account with Motorite, or get quick response queries from their team. The other benefit of either these is that they increase the re-sale value of your car, and make it a more worthwhile investment than the liability it may otherwise be. Also, with both these, you will qualify for a pro-rata refund in the event that your car is stolen or hijacked.
Motorite Contact Details